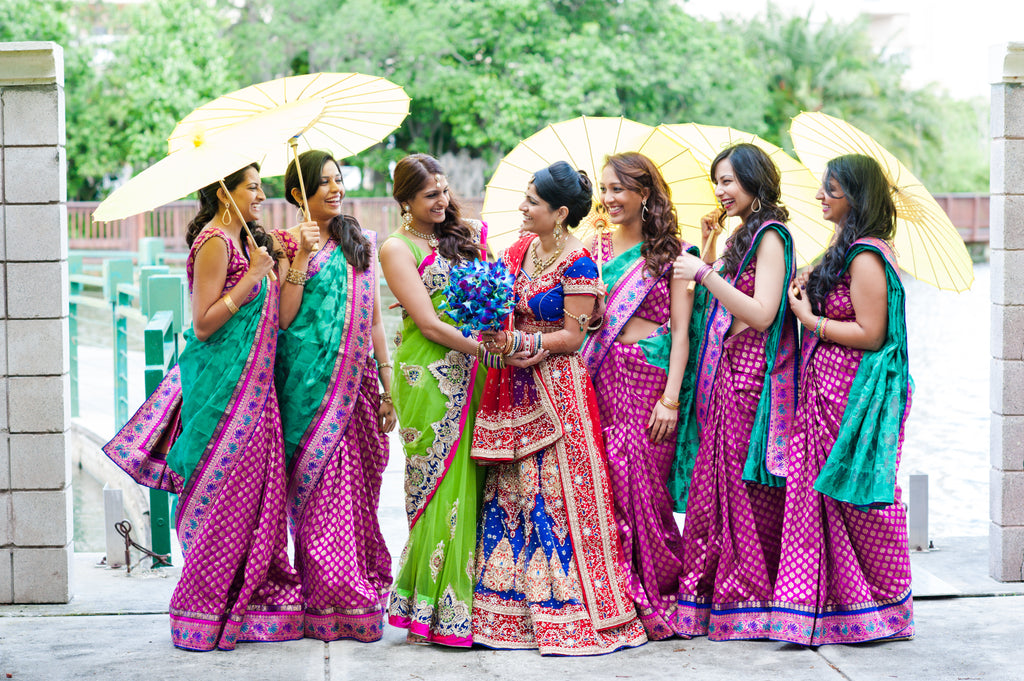 Bridesmaid Trends
Bridesmaids! Your girls for life and the ones you could not see yourself getting married without. He popped the question, then you popped the question, and now you are sitting here in the US trying to figure out how to coordinate matching outfits and jewelry for your group of favorite ladies. Let us help! Here I've broken down some of the best trends for bridesmaid jewelry for you as well as linked some examples from our store. 

1. One of the newest trends in bridesmaid jewelry is having your girl squad wear a big tikka and matching earrings. You are already going to be spending money on their dresses, and many times if you go for an anarkali or gown there will already be some sort of work on the neck area. Skip the need to provide a necklace as well as the extra expense and stick to the simplicity and modern look of a big maang tikka and earrings. These pieces will look great during all the pictures, including closeups. It's also an added plus that both items can definitely be used again by your besties for future events.

2. If your bridesmaids are wearing sarees, one look I love is having a mix of necklace lengths for the girls. Giving half the girls chokers and the other half long ensambles you will add some variety to their outfits while still keeping the look unified. Additionally the girls can later use the pieces when layer future looks for other occasions.

3. Body chains and saree belts are a trend I am in love with! These can be worn over the clothing or drapped in a way to accentuate a low cut saree blouse back to add a certain fashionable flair to any outfit. Imagine your group of girls walking out in their sarees with a nice accented saree belt, such a statement forgoes the need for a necklace or other heavy jewelry. Other body chains that drape over shoulders or arms are definitely more for the avant garde bridal party. 

4. Traditional necklace and earring set. Though the combination may be traditional you can always choose some unique sets for your bridal party to accent their outfits. Pick something with a unique pop of color from our Color Me Beautiful collection.